Got banned from an online game? Or a forum? Just need to get back in? Now you can! With the information in this eBook you will enjoy immunity from IP bans from now on!

Your Internet Service Provider assigns an IP to you, and websites use this IP to keep track of you. If your IP gets banned, you can no longer access the website.

Our eBook shows you how to get a new IP from your ISP, in easy steps, with a clear explanation and screen shots of every single thing you have to do! It is basically a small feature you can exploit in Windows XP. The whole procedure takes less than 5 minutes!

Sometimes you may want to simply mask your IP. Then you can use one of our other products, featured here. At other times, you will really Need a new IP to get Back in the Game!

This is a 100% failsafe piece of technical knowledge, extensively tested over and over again, with different Internet Service Providers in different countries. Just made available for our customers on Hide-My-Ip.Com!
Click To Order Your new IP in a few easy steps! eBook for only $19.95

Immediate Delivery via Download Link.
There are some System Specifications for this product. To successfully use it, you need:

-Windows XP, service pack 2. (NOT Vista)
-A direct CABLE internet connection. (so NO DSL, no router. If you use a router you can easily take it out temporarily, change your IP with this eBook, and then put the router back.)

If you use Vista you can still ask a friend with an XP laptop to drop by, and you can change your IP with that!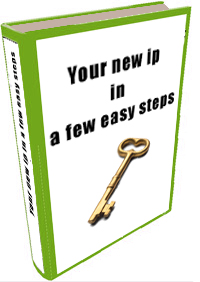 27 Pages of Step-by-Step Instructions

Format Available in: