Request Program for the Premium Service
If your would like to hide your IP in a program that is not in our list of programs compatible with the Premium Service, you can request a program be added to the list. All we need is the program name and the .exe file name of the program that makes an Internet connection.

Example: "Internet Explorer" and the .exe name, i.e "iexplore.exe"
How do find the .exe name (advanced users)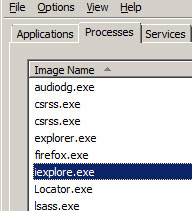 First run the program you want to request be added to the Premium Service. Then press Control-Alt-Delete to run the Task Manager. Find the .exe name of the program (i.e "iexplore.exe"). Please provide the case sensitive .exe name.