Ace File Shredder

An easy-to-use digital file shredder able to shred files, folders and free disk space to prevent data recovery.

Price: $19.95 USD
Delivery: Instant Download with License Key
Digital File Shredding At It's Best
Prevent deleted files from being recovered with Ace File Shredder! Did you know deleted files can easily be recovered using file undelete utilities? Prevent your deleted files or sensitive data from being recovered with our efficient digital file shredder, able to shred files, folders, and wipe free disk space to prevent previously deleted files from being recovered. You can also scramble file and folder names, dates, and times before they are erased for good. Features include Drag & Drop File/Folder support, Right-Click file menu shredding, and free disk space wiping.
Screen Shot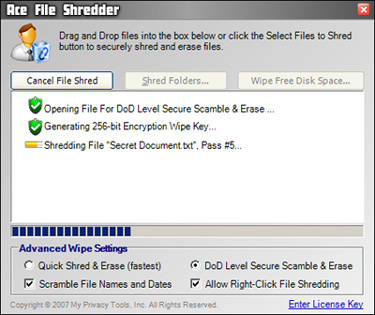 Key Benefits & Features

Easily Drag & Drop File or Folders! - Simply drag files or folders into the main program window to permanently erase them forever.



DoD (Department of Defense) Strength Shredding - Erase files with safest and most secure option using DoD Level file wiping - writes over files 13 times before removing them from the hard disk as specified in the DoD 5220.22-M standard.



Right-Click File Menu Support - Right-Click any file or folder in Windows Explorer and send it to Ace File Shredder for shredding.



Scramble File/Folder Names, Dates, and Times - Randomize file/folder names, dates and times before deleting. If this setting is not used, it is possible to find the original file names and dates of deleted files.

Wipe Free Disk Space - Did you delete sensitive files without using Ace File Shredder? Use the Wipe Free Disk Space feature to overwrite your slack hard drive space and prevent these files from being recovered.