Hur fungerar Hide My IP?
When your computer connects to the Internet normally, it is assigned an IP address by your Internet Service Provider. This IP address is used to keep track of your communications with all websites or any program that connects to the Internet. This is known as a Direct Internet Connection. When you install and run Hide My IP on your computer, it will modify your Internet Connection Settings, telling your computer to make connections through a Fake IP Relay provided by Hide My IP.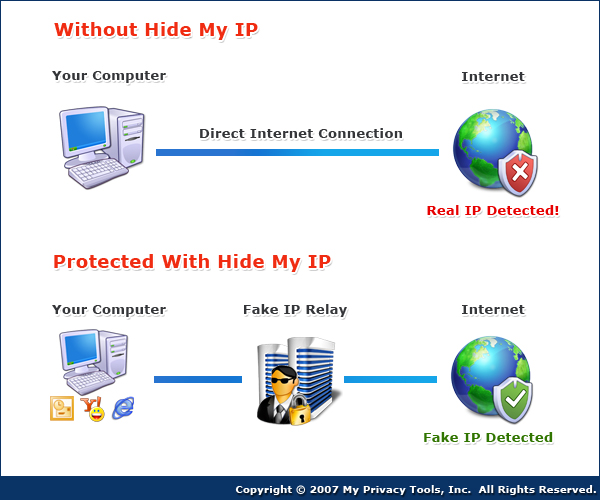 Hide My IP compatibility
Hide My IP is compatible with many web browsers such as Internet Explorer, FireFox, Netscape, Opera browsers. All websites visited or E-mails sent using these browsers will show you are connecting from one of our fake IP addresses.
Premium High-Speed Service
With our High-Speed Premium Service add-on to Hide My IP, you can also hide your IP in many other applications such as Outlook Express, MSN Messenger, AIM, WinAmp, Putty, Trillian, ICQ, Yahoo Messenger, Windows Mail, and much more. You can view a list of all programs supported by our Premium Service..
När du surfar på Internet normalt, gör datorn en direkt koppling till de webbplatser du besöker. Med Hide My IP igång, så ställs en anonym proxyserver in på att förmedla information mellan dig och de webbplatser du besöker, därför ser webbplatserna den falska IP och inte din riktiga IP-adress.
Var finns dessa falska IP-adresser? Hide My IP väljer slumpmässigt IP från en lista med hundratals anonyma falska IP-adresser från hela världen. Den valda IP'n installeras sedan automatiskt i din webbläsare, e-postklient, spel eller annat program som du anger att Hide My IP ska fungera med, så att du kan surfa på Internet och använda Internetbaserade program samtidigt som du är helt anonym.
Obegränsad livstids support. BESTÄLL DITT EXEMPLAR!