Como funciona o Hide My IP?
When your computer connects to the Internet normally, it is assigned an IP address by your Internet Service Provider. This IP address is used to keep track of your communications with all websites or any program that connects to the Internet. This is known as a Direct Internet Connection. When you install and run Hide My IP on your computer, it will modify your Internet Connection Settings, telling your computer to make connections through a Fake IP Relay provided by Hide My IP.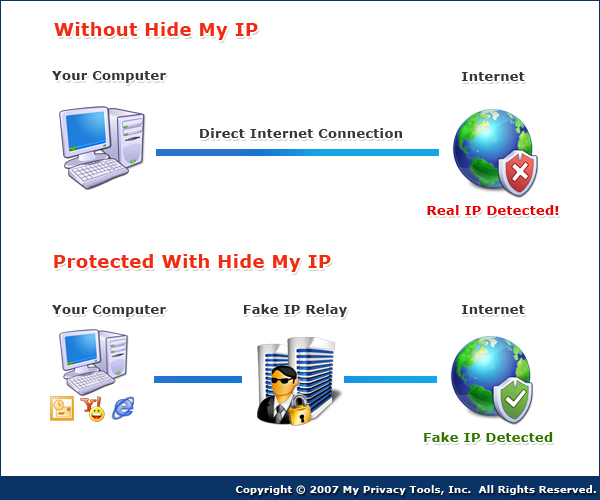 Hide My IP compatibility
Hide My IP is compatible with many web browsers such as Internet Explorer, FireFox, Netscape, Opera browsers. All websites visited or E-mails sent using these browsers will show you are connecting from one of our fake IP addresses.
Serviço de alta velocidade Premium.
With our High-Speed Premium Service add-on to Hide My IP, you can also hide your IP in many other applications such as Outlook Express, MSN Messenger, AIM, WinAmp, Putty, Trillian, ICQ, Yahoo Messenger, Windows Mail, and much more. You can view a list of all programs supported by our Premium Service..
Quando navega na Internet normalmente, o computador faz uma ligação direta com os sites que visitou. Com o Hide My IP em execução, um servidor proxy anónimo é definido para transmitir informações entre você e os sites que visita, de modo que os sites vejam um IP falso e não o seu endereço IP real.
Onde estão localizados os endereços de IP falsos? O Hide My IP seleciona um IP aleatório de uma lista de centenas de IPs falsos anónimos de todo o mundo. O IP escolhido é então instalado automaticamente no seu navegador web, cliente de e-mail, jogos ou qualquer outro aplicativo que você especificar, o que lhe permitirá navegar na Internet e usar o software baseado na Internet enquanto se mantem totalmente anónimo.
Apoio Ilimitado Vitalício. Encomende o seu exemplar!