Kao radi Hide My IP?
When your computer connects to the Internet normally, it is assigned an IP address by your Internet Service Provider. This IP address is used to keep track of your communications with all websites or any program that connects to the Internet. This is known as a Direct Internet Connection. When you install and run Hide My IP on your computer, it will modify your Internet Connection Settings, telling your computer to make connections through a Fake IP Relay provided by Hide My IP.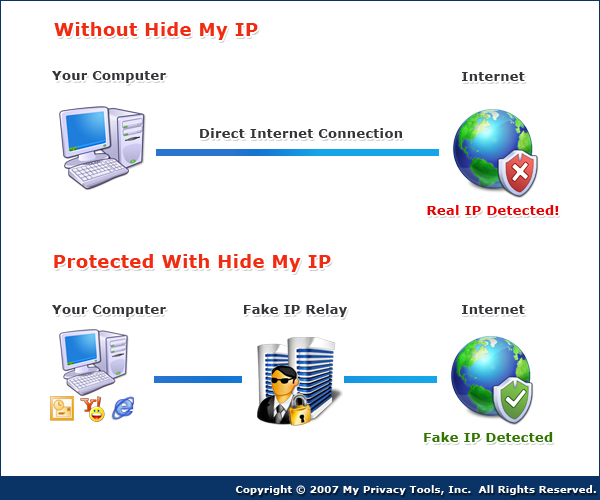 Hide My IP compatibility
Hide My IP is compatible with many web browsers such as Internet Explorer, FireFox, Netscape, Opera browsers. All websites visited or E-mails sent using these browsers will show you are connecting from one of our fake IP addresses.
Premium usluga velike brzine.
With our High-Speed Premium Service add-on to Hide My IP, you can also hide your IP in many other applications such as Outlook Express, MSN Messenger, AIM, WinAmp, Putty, Trillian, ICQ, Yahoo Messenger, Windows Mail, and much more. You can view a list of all programs supported by our Premium Service..
Kada surfujete Internetom normalno, vaš kompijuter pravi direktnu konekciju prema sajtovima koje posećujete. Sa Hide My IP uključenim u pozadini, anonimni proksi server je podešen da preusmerava informacije između vas i sajtova koje posećujete, čime sajtovi vide lažnu IP adresu a ne vašu pravu.
Gde su locirane vaše lažne IP adrese? Hide My IP selektuje nasumično IP iz liste od hiljadu anonimnih lažnih IP adresa sa svih strana sveta. Izabrane IP adrese su automatski instalirane u vašem Internet pregleđivaču, elektronskoj pošti, igricama ili bilo kojoj drugoj aplikaciju za koju izabarete da radi sa Hide My IP softverom, omogućavajući vam da surfujete Internetom i koristite internet bazirane aplikacije ostajući totalno anonimni.
Neograničena doživotna podrška. NARUČITE VAŠU KOPIJU!