How Does Hide My IP Work?
When your computer connects to the Internet normally, it is assigned an IP address by your Internet Service Provider. This IP address is used to keep track of your communications with all websites or any program that connects to the Internet. This is known as a Direct Internet Connection. When you install and run Hide My IP on your computer, it will modify your Internet Connection Settings, telling your computer to make connections through a Fake IP Relay provided by Hide My IP.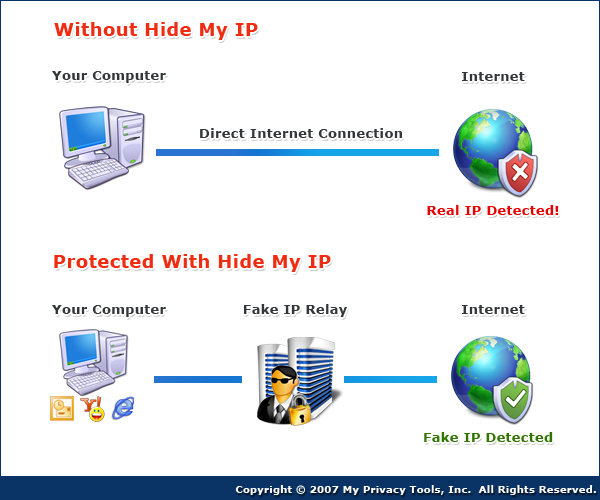 Hide My IP compatibility
Hide My IP is compatible with many web browsers such as Internet Explorer, FireFox, Netscape, Opera browsers. All websites visited or E-mails sent using these browsers will show you are connecting from one of our fake IP addresses.
Premium High-Speed Service.
With our High-Speed Premium Service add-on to Hide My IP, you can also hide your IP in many other applications such as Outlook Express, MSN Messenger, AIM, WinAmp, Putty, Trillian, ICQ, Yahoo Messenger, Windows Mail, and much more. You can view a list of all programs supported by our Premium Service..
When you browse the Internet normally, your computer makes a direct connection to the websites you visit. With Hide My IP running, an anonymous proxy server is set to relay information between you and the websites you visit, hence web sites see the fake relay IP and not your real IP address.
Where are these fake IP addresses located? Hide My IP selects a random IP from a list of hundreds of anonymous fake IPs from all over the world. The chosen IP is then automatically installed into your web browser, e-mail client, game, or other application you specify Hide My IP to work with, allowing you to surf the Internet and use Internet-based software while remaining totally anonymous.
Unlimited Lifetime Support. ORDER YOUR COPY!